Ireland Falls to France 1-0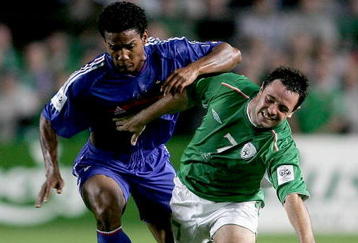 DUBLIN, Ireland — Nicolas Anelka kept France on course for the World Cup on Saturday with a lucky goal midway through the second half that clinched a 1-0 playoff win at Ireland. France laboured at Croke Park before the Chelsea striker capped his side's second-half improvement with a 72nd-minute shot from the edge of the area that hit defender Sean St. Ledger and spun beyond goalkeeper Shay Given.
Ireland drew 0-0 at France in World Cup qualifying five years ago. The same result in Wednesday's second leg at Stade de France would send the 1998 World Cup winners to the 2010 tournament. "We have seen that the Irish team are a very difficult team to beat," France captain Thierry Henry said. "They didn't lose a game in qualification so what we did tonight is nice.
"But it's still 90 minutes to go and it's going to be a tough game for us in Paris." France had an 11th-minute strike by Andre-Pierre Gignac disallowed for offside but Ireland created chances too. Robbie Keane was blocked by the goalkeeper at close range, Liam Lawrence had a shot deflected just past the post and Keith Andrews shot wide.
"I preferred the second half when we were more ourselves," France coach Raymond Domenech said. "There were lots of high balls, which isn't our game. "The main point is that we didn't concede any goals and I am happy with this."
Ireland was just one of five European teams to complete its group matches undefeated, but has never qualified ahead of France on the five previous occasions the teams have been paired in the preliminaries for the World Cup. The visitors showed enough class in front of a 74,103 crowd to suggest that sequence will be extended.
With Anelka able to skip past the first challenge and attack from the right almost at will, France was far more fluid going forward than an Ireland side reliant upon the central midfield tackling of Andrews and Glenn Whelan to disrupt their opponents' rhythm. France left striker Karim Benzema, who cost more when he moved to Real Madrid this year than the whole Ireland team combined, on the bench all night but peppered Given's goal at the start of the second half with shots by Yoann Gourcuff, Lassana Diarra and Anelka.
Still, France needed luck to win.
Midfielder Diarra passed to Gourcuff, who laid the ball off to Anelka. Given had the Chelsea striker's shot covered but it struck St. Ledger's boot as he turned and went into the net off the right post. "I said to the players, we played 90 minutes; this is the first half," Ireland coach Giovanni Trapattoni said. "We will have in Paris, the second half. All is possible in football. For example, a little deflection can turn the game around."
France's propensity to surge forward did at times leave it exposed, and when Anelka lost the ball in the 31st a swift move involving Keane and Kevin Doyle ended with midfielder Andrews shooting wide. And Ireland had missed an even better chance just three minutes earlier.
Doyle flicked on a long ball to Keane, who controlled with his chest and was about to shoot from close range when he was blocked by quick-thinking goalkeeper Hugo Lloris. The ball ran to Lawrence, who was rushing to support his colleagues, and the midfielder was left with his head in his hands after Evra got across to deflect his shot narrowly wide of the right-hand post with Lloris nowhere near.
France's defenders looked uncertain how best to deal with long passes coming at them, but Ireland's back line was just as vulnerable. Richard Dunne and John O'Shea both misjudged long passes by France in the opening 15 minutes, the former almost giving away a goal when he let Eric Abidal's punt from defence bounce over his head. Gignac collected the ball and lobbed it neatly over Given but his effort was ruled offside.
Andrews contributed some more bumbling defending five minutes before halftime when he broke up an attack but then dribbled through a group of players into his own area. Thierry Henry stole the ball and engineered space for a shot that went just wide.
Copyright
2009 The Canadian Press. All rights reserved.
-----
This saddens me greatly, as Canada has no soccer club, I often root for the English and Irish. Now the Irish must win in Paris by 2 goals to qualify for South Africa. It will be an uphill battle.